Get UK Deal: West Yorkshire: 1 or 2 Nights with Breakfast for just: £69.00
Posted on 22/05/2018 by Deal Advisor | Comments Off on Get UK Deal: West Yorkshire: 1 or 2 Nights with Breakfast for just: £69.00
Groupon UK Offers: West Yorkshire: 1 or 2 Nights with Breakfast
Description:
Cancellation Policy:
No modification or cancellation allowed after booking confirmation. Bookings are non-refundable and non-transferable to another destination once confirmed.
Validity:
Valid from 5 May to 31 Aug 2018.
Please note that there is a £10 supplement for Fri nights and a £20 supplement for Sat nights, payable to the hotel directly.
Price for 2 people.
Booking:
Bookings must be confirmed within 60 days from voucher purchase.
Booking required by phone: 014 8485 1413 or by email: [email protected], and subject to availability. Please attach your voucher to the e-mail. On booking customers need to provide their credit/debit card details for confirmation.
Limit 5 vouchers per stay. 5 extra vouchers can be bought as gifts.
Other Information:
The hotel is located in Meltham, UK.
No city tax.
No transfers included.
Valid for stay in a classic double room for two.
Additional persons:
Max. 1 additional child allowed per room.
Children under 12 years old stay for a supplement of £20 each per night, breakfast included.
Original values based on stays in a classic double room between 5 May-31 Aug 2018. Limited availability of these dates. Original values verified on a booking website on 02 May 2018.
Vouchers sold by Groupon International Travel GmbH. >> More details…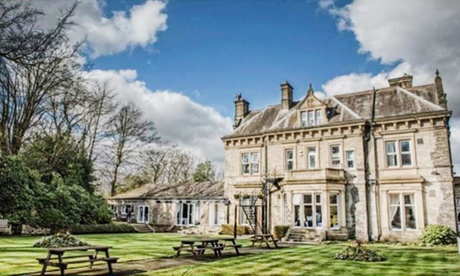 Comments
comments
Share