Get UK Deal: Shropshire: Up to 4-Night Activity Break with Meals for just: £75.00
Posted on 29/07/2018 by Deal Advisor | Comments Off on Get UK Deal: Shropshire: Up to 4-Night Activity Break with Meals for just: £75.00
Groupon UK Offers: Shropshire: Up to 4-Night Activity Break with Meals
Description:
Cancellation Policy:
Modifications only possible outside the cancellation penalty period (7 days before the check-in date), by cancelling the reservation and rebooking while the deal is online; subject to availability and the cancellation policy.
Validity:
Valid for arrivals on selected dates between 3 Apr-26 Oct 2018, as per the option chosen.
Price is per person; please note that you must buy min. 2 vouchers to complete the booking (min. 1 adults and 1 child aged 5-17 years).
Booking:
Must book min. 10 days before arrival.
Booking required by phone: 01273 647230 (Mon-Fri only) or by email: [email protected], and subject to availability. Please attach your voucher to the e-mail.
Limit of 2 vouchers per reservation. May buy max. 10 extra vouchers as gifts but not to extend the stay.
Limitations:
Not valid in conjunction with any other offer and cannot be applied towards existing reservations.
Other Information:
The property is located in Shropshire, UK.
No city tax.
No transfers included.
Valid for stay in a private dorm room for 1 adult and 1 child. Standard accommodation is in private dorm rooms with an allocated private bathroom (no family will share with another family).
Max. 12 people per room. Accommodation is allocated basing on the size of the family booking.
Rooms can be upgraded to include ensuite facilities for additional £30 per stay per family for 2-night stays, £45 for 3 nights and £60 for 4 nights; payable directly to the merchant.
For information on any special assistance required, including disabled access, please contact merchant directly prior to purchase.
Children must be accompanied by adults.
Waiver to be signed for activities.
Equipment provided.
Children must be between 5-17 years old to participate in harnessed activities.
First included meal is dinner (except for 2-night stay options when it is lunch).
Last meal is breakfast on the morning of departure day.
There is 1 activity plus evening activity on the day of arrival (except 2-night stay options where there will be 2 activities plus evening activity).
On the day of the departure, activities go on until approx. 11:30am-12pm but the rooms should be vacated by 9:15am.
Generally, activities designed for adults and children aged 5-17 but size and other restrictions may apply; please enquire when booking.
Children aged 4 and under go for free (they will not be able to take part in any harnessed activities).
Children aged 5 and over can take part in all activities provided the safety harness fits.
Max. room occupancy is 12 people.
No single occupancy.
Original values based on stays in a dorm room between 3 Apr-26 Oct 2018. Limited availability for these dates. Original values verified on the merchant website on 19 Mar 2018.
Vouchers sold by Groupon International Travel GmbH. >> More details…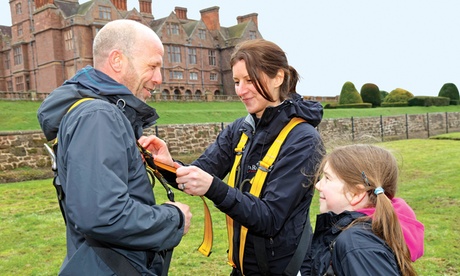 Comments
comments
Share