Get UK Deal: North Yorkshire: Up to 3-Night 4* Stay with Breakfast for just: £59.00
Posted on 27/10/2018 by Deal Advisor | Comments Off on Get UK Deal: North Yorkshire: Up to 3-Night 4* Stay with Breakfast for just: £59.00
Groupon UK Offers: North Yorkshire: Up to 3-Night 4* Stay with Breakfast
Description:
Cancellation Policy:
No modification or cancellation allowed after booking confirmation; bookings are non-refundable and non-transferable to another destination once confirmed.
Validity:
Valid until 31 Mar 2019. Excluded dates/periods: 24-25 Dec and 28 Dec 2018-1 Jan 2019.
Price for 2 people.
Booking:
Must book within 4 weeks of purchase.
Questions and bookings (upon availabilities) required by phone: 01765 689477.
Limit of 2 vouchers per stay.
Limitations:
Must be 18 or older.
Other Information:
The hotel is located in Masham, UK.
No city tax.
Customers may upgrade to other room types, enquire when booking.
Any supplements must be paid directly to the hotel upon check-out.
Valid for stay in a standard double room for 2 people.
Please note that dinner is main course only, the menu is subject to change.
£7.50 surcharge for mains on the specials board and £7.50 surcharge for steaks on the normal menu apply. £2.50 surcharge for starters off the specials board. Surcharges payable on site.
Reference price verified on the merchant's website on 15 Oct 2018. More information here.
Vouchers sold by Groupon International Travel GmbH. >> More details…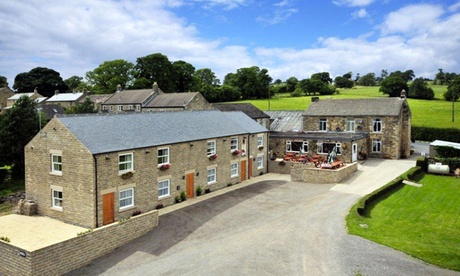 Comments
comments
Share