Get UK Deal: Hartlepool: 1 or 2 Nights with Breakfast for just: £59.00
Posted on 27/10/2018 by Deal Advisor | Comments Off on Get UK Deal: Hartlepool: 1 or 2 Nights with Breakfast for just: £59.00
Groupon UK Offers: Hartlepool: 1 or 2 Nights with Breakfast
Description:
Cancellation Policy:
No modification or cancellation allowed after booking confirmation. Bookings are non-refundable and non-transferable to another destination once confirmed.
Validity:
Valid until 28 Feb 2019.
Price for 2 people.
Booking:
Must book within 3 weeks of purchase.
Booking required by phone: 0142 983 6326 or by email: [email protected], and subject to availability. Please add voucher details, full name and contact details to the e-mail.
Limit 1 voucher per stay.
Limitations:
Must be 18 or older with a valid ID for alcohol.
Other Information:
The hotel is located in Hartlepool, UK.
No city tax.
No transfers included.
Valid for stay in classic double room for 2 people.
Options available for a surcharge: £30 for a garden view room and £50 for a four poster room.
Voucher cannot be used in conjunction with any other offer. Vouchers cannot be combined.
Additional persons:
Max 1 additional child up to 12ys or baby up to 2ys can share the room, using existing bedding.
Extra child surcharge: £10. Baby stays free of charge.
Reference price verified on Booking (room rate) and merchant's website (add ons) on 2/10/2018. More information here.
Vouchers sold by Groupon International Travel GmbH. >> More details…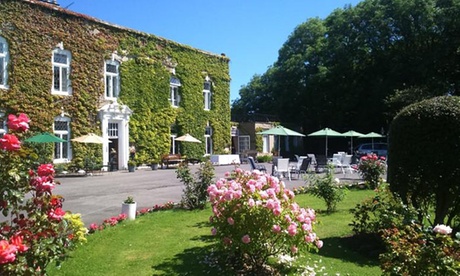 Comments
comments
Share