Get UK Deal: 1- or 2-Night 4* Stay with Breakfast in Lancashire for just: £105.0
Posted on 16/07/2017 by Deal Advisor | Comments Off on Get UK Deal: 1- or 2-Night 4* Stay with Breakfast in Lancashire for just: £105.0
Groupon UK Offers: 1- or 2-Night 4* Stay with Breakfast in Lancashire
Description:
Validity:
Valid from 1 Jun to 30 Sep 2017. Excluded dates/periods: public and bank holidays.
Price for 2 people.
Booking:
Recommended booking within 24 hours after purchase.
Questions and bookings required by phone: 01254 769200, and subject to availability.
Must quote security code and voucher code when booking.
Must bring Groupon voucher on redemption.
No modification or cancellation allowed after booking confirmation. Bookings are non-refundable and non-transferable to another destination once confirmed.
Can buy multiple vouchers to extend stay.
Limitations:
Must be 18 or older with a valid ID for alcohol.
Other Information:
The hotel is located in Mellor, UK.
No city tax.
No transfers included.
Valid for stay in a luxury double room for 2 people.
Additional persons:
Max. 2 additional guests may stay in a room. Max. occupancy: 2 adults and 2 children or 1 adult and 3 children.
A charge of £30 per each additional child per night applies, charge applies to children aged 16 years old and under.
Please note: if only one adult there would be no charge for one child as the stay is based on two people sharing.
Breakfast included for additional guests.
Dinner is only included for the two guests included in the offer, children who have been added for a supplement get breakfast included only (refers to the options including dinner).
Access to the SPA Thermal bathing suite is subject to availability and will be charged £10.00 per person (Mon-Thu) and £35.00 per person (Fri-Sun). Advance SPA Booking is essential, please contact the hotel directly.
Customers may upgrade to bedroom suites at a charge, enquire when booking with the hotel.
No children are allowed in the spa area at any time.
Original values based on stays in a luxury double room between 1 Jun and 30 Sep 2017. Limited availability for these dates. Original values verified on booking and merchant's websites on 28 Apr 2017.
Vouchers sold by Groupon International Travel GmbH. >> More details…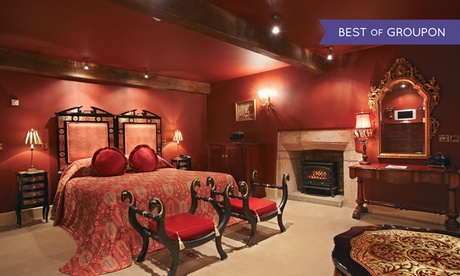 Comments
comments
Share